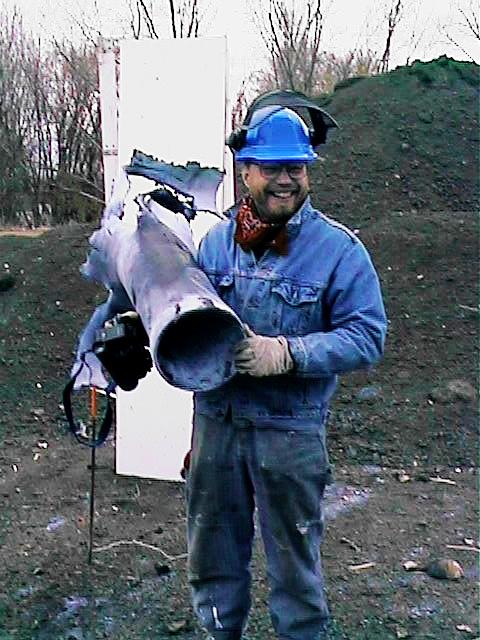 Over 35 years real world experience in the fireworks and special effects trades. If it goes bang or burns and is used for entertainment, I've probably had something to do with it in some way or another.
Manufacturer's Representative. Unique high density polyethylene (HDPE) mortars for professional aerial fireworks and some special effects.
Consultant and Expert Witness. Fire code, regulatory and legal issues. My focus is on the laws and regulations, industry standards and practices, as well as the practical "hands-on" aspects to fireworks and special effects, and the way people use them in the real world. NOTE: I am not a chemist or a physicist, although I understand some of the basic principles of these disciplines.
Pyrotechnist (Display Operator). Design and perform fireworks displays and special effects performances.
Writer/Reporter. The SPECIAL CORRESPONDENT for American Fireworks News (AFN) including the monthly American Fireworks News and Fireworks Business newsletters as well as the AMERICAN CORRESPONDENT for John Bennett's Fireworks, a quarterly UK publication.
I am also an active volunteer, notably:
NATIONAL FIRE PROTECTION ASSOC. (NFPA), Quincy, Massachusetts USA
PRINCIPAL MEMBER (Voting) – SPECIAL EXPERT, Technical Committee on Pyrotechnics
PRINCIPAL MEMBER (Voting) – SPECIAL EXPERT, Technical Committee on Special Effects
 The Pyrotechnics Committee develops NFPA 1123, Code for Fireworks Display and NFPA 1124, Code for the Manufacturing, Transportation and Storage of Fireworks and Pyrotechnic Articles, plus the model and sport rocket fire codes (1122, 1125 & 1127)
 The SPFX Committee develops NFPA 1126, Standard for the Use of Pyrotechnics before a Proximate Audience and NFPA 160, Standard for the Use of Flame Effects before an Audience.
SKYROCKERS OF LA CROSSE, INC., La Crosse, Wisconsin USA
HISTORIAN/ARCHIVIST – Local fireworks display group formed in 1929.
Certified Pyrotechnic Operator, 1989. (PRESIDENT 1984-1991).
 Assist with planning, organizing and implementing fireworks displays, including the annual New Year's Eve display from atop 600' Grandad's Bluff overlooking the east side of the city.
 Assist with education and training, including "live fire" demonstrations.
BENEDICTION BOX INTERNATIONAL, INC., La Crosse, WI USA
FOUNDING PRESIDENT – Formed a 501(c)3 non-profit for a grassroots refugee relief program
 Coordinate fundraising and volunteers to provide food to refugees, primarily in South America.
Currently, I spend winters in Orlando, Florida and South America, and summers in La Crosse, Wisconsin. although I can be almost anywhere, at anytime.